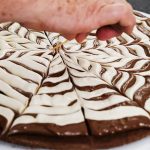 The traditional application for your dessert pizzas, just spread the product over the baked crust while still warm. It should be slightly heated (beside the oven or in the microwave in medium power). Finish your pizza with fresh fruit, sprinkles, etc.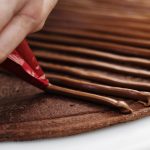 The bag packaging is very convenient to apply, and you can also easily decorate your pizza! Apply the toppings in circles (preferably a light and a dark ones, for more contrast) and then "mix" the colors by passing a toothpick, creating a beautiful visual effect!
It can be used to coat cheesecakes, panna cotas and pies, bringing shin and concentrated guava flavor.
Use it as a filling for bonbons and Easter eggs: just apply it to the previously molded crust and use more chocolate or compound to seal it. As it stands oven temperature, it can also be used to fill roly-polies, cakes and breads.