Chocolate Pizza with Hazelnut and White Chocolate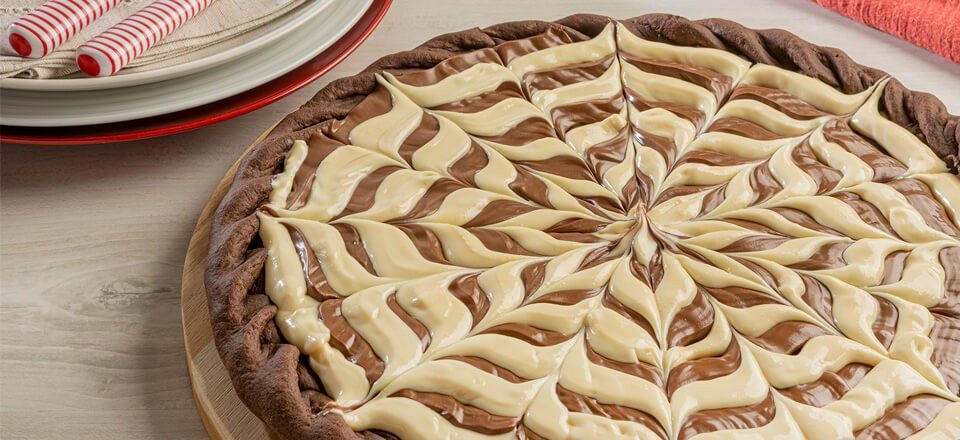 Produtos utilizados
Cocoa Powder Melken 100% Cocoa 200g
Baking Chocolate and Hazelnut Flavored Filling 1.01kg
Baking Filling White Chocolate Flavor 1.01kg
Sobre a receita
This recipe for Chocolate Pizza with Hazelnut and White Chocolate was developed with our Confectioner supplyable fillings.
Ingredientes
Dought:

1kg Flour

10g Fresh biological yeast

25g Salt

25g Refined sugar

20g Cocoa Powder 100% Melken

550ml Water

50g Sunflower oil

Filling:

1,01kg Chocolate and Hazelnut Flavored Filling Confectioner

1,01 kg Filling Provideable White Chocolate flavor
Modo de preparo
Pasta
In a mixer mix all the dry ingredients and add the water, kneading until you get a dough. Add the oil and knead again until the dough is smooth.
After making the dough, divide it into 8 balls to make the pizza. Put them in a bowl with a lid and let them rest for 2 hours at room temperature.
Edge
Open the pizza disks and shape the braided edge.
Take to the oven at 300°C for 2 minutes or until the dough is pre-baked.
Finalization
In the center, apply the Baking Chocolate and Hazelnut Filling, making circles and leaving a space of 1 cm between the circles.
Then, in the spaces of the circles, apply the Furnishable Filling Confectioner White Chocolate flavor.
With the help of a toothpick, from the center to the edges and from the edges to the center, interspersing, drag the fillings to obtain the mandala effect.