Two Chocolates Pizza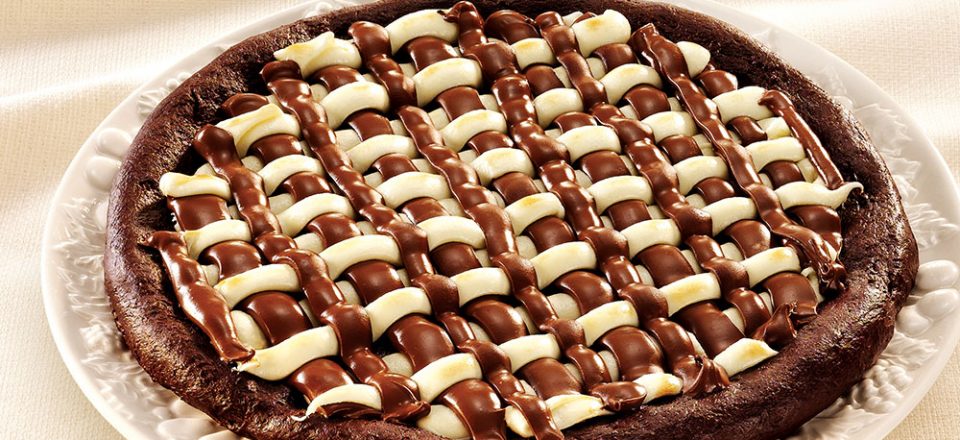 Produtos utilizados
Alkaline Cocoa Powder Melken 100% Cocoa 500g
Filling Provideable Confectioner Milk Chocolate flavor 1.01kg
Baking Filling White Chocolate Flavor 1.01kg
Sobre a receita
This Two Chocolates Pizza recipe was developed with products from the Harald Confeiteiro line of Furnishable Stuffings
Ingredientes
Dough

100g Flour

10g dry biological yeast

25g Salt

25g Sugar

20g Cocoa Powder 100% Melken

550g Water

50g sunflower oil

Filling

Filling Provideable Confectioner Milk Chocolate flavor 1.01kg

Baking Filling White Chocolate Flavor 1.01kg
Modo de preparo
1.      Mix all the dry ingredients and add the water, kneading until you get a dough.
2.      Add the oil and knead again until the dough is smooth. If necessary, sprinkle a little flour on the countertop.
3.      Divide the dough into 4 balls of 400 g each. Place them on a flat surface and cover them with plastic. Let rest for at least 2 hours.
4.      Follow the procedure for preparing the pizzas.
Dicas
nas receitas de pães, as porcentagens são calculadas considerando o peso da farinha como 100% e os outros ingredientes como uma porcentagem de seu peso.